JARED CLINE was the Web and Associate Editor at Time Out Beijing magazine, where he covered local and expatriate culture in China's capital city. Jared recently joined Men Advocating Real Change (MARC) at Catalyst as Community Manager.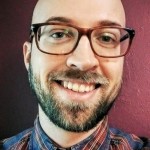 BRING BALANCE TO YOUR WORKPLACE. We've long known that Hollywood has a woman problem. A recent study by USC's Annenberg School for Communication and Journalism analyzed 700 films released between 2007 and 2014 and found that only 30.2% of the 30,835 speaking characters were female. That works out to 2.3 male characters to every female one.
But it's not just a lack of representation. Even those that do achieve silver screen stardom rarely get paid their fair share, as Cliff Leek discussed in the MARC blog on Jennifer Lawrence and the astonishing Hollywood pay gap.
Fortunately, J.J. Abrams has set out to fix that. Just as women are taking on combat roles in the military, they're taking up lightsabers in the director's latest film, Star Wars: The Force Awakens. English actress Daisy Ridley plays Rey, a scavenger who is arguably more central to the plot than Princess Leia.
It's a huge turn for the series, and we're glad to see it. After all, the original trilogy doesn't really have any female characters aside from Leia. Even for a galaxy far, far away, that seems pretty suspicious.
In casting Ridley, Abrams did something drastic: he made a conscious, directorial decision to move the franchise away from the old boys' club of Episodes IV, V and VI. He upended a narrative that saw Leia, capable and cunning in her own right, sidelined as a slave who was forced to wear a revealing metal bikini. He brought balance to the Force.
While there is a bit of debate as to whether the film passes the famous Bechdel Test – which states that there must (a) be more than one woman, and (b) those women talk to each other about (c) something other than a man – it certainly wins on showcasing strong female leads in Rey, General Leia, Captain Phasma and Academy Award-winning actress Lupito N'yongo's alien character, Maz Kanata.
With The Force Awakens on track to become the highest-grossing film of all time, we're willing to bet Abrams' bold decision will be hard to ignore. Not only can women conquer the Dark Side, but they can win over audiences, too.
The message it sends to Hollywood and men in positions of power is clear: you, as the most powerful stakeholders, are in the best position to influence change in your industry. Abrams did it with casting and a bold storyline. You can do it by bringing balance to your workforce.
JARED CLINE is the Community Manager of Men Advocating Real Change (MARC) at Catalyst. This blog first appeared on MARC, Jan. 2016